iOS 16.5 Features: Everything New in iOS 16.5
Apple today released iOS 16.5, the fifth major update to the iOS 16 operating system. iOS 16.5 is not as notable as some of the prior updates that we have seen, but there are some important bug fixes and feature additions.

This guide highlights all of the new features in the iOS 16.5 update.
Sports Tab in Apple News
Apple added a dedicated Sports tab in Apple News, providing sports fans with quick access to stories, scores, standings, and other information. ‌Apple News‌ users can select their favorite teams and leagues to get personalized news.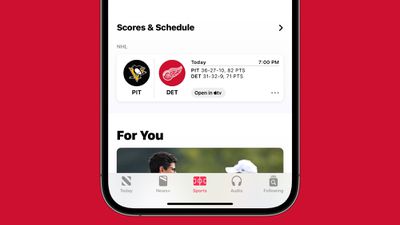 Tapping on sports score and schedule cards in ‌Apple News‌ now goes directly to game pages populated with additional information about specific games.
Pride Collection Wallpaper
To go along with the new 2023 Pride Apple Watch Band and watch face, Apple has designed a Pride Celebration Lock Screen that is available in the iOS 16.5 update.
Bug Fixes
There are a number of bug fixes in the iOS 16.5 update, including fixes for Spotlight, Screen Time, and Podcasts.
Fixes an issue where Spotlight may become unresponsive
Addresses an issue where Podcasts in CarPlay may not load content
Fixes an issue where Screen Time settings may reset or not sync across all devices
Security Fixes
According to Apple's security support documents for iOS, the iOS 16.5 and iPadOS 16.5 updates fix a long list of vulnerabilities, including three security flaws that were known to be actively exploited. Two of these issues were addressed in the prior iOS 16.4.1 and iPadOS 16.4.1 Rapid Security Response updates and are not an issue if you were running iOS 16.4.1 (a), but a third vulnerability is still active until you install the new software.
The WebKit security flaw could allow an attacker to break out of the Web Content sandbox, an issue that Apple fixed with improved bounds checks. Apple says that it is aware of a report that this issue may have been actively exploited. The other two WebKit vulnerabilities were related to processing maliciously crafted web content that could allow for the disclosure of sensitive information or arbitrary code execution.
Other Features
Know of an iOS 16.5 feature that we left out of this guide? Let us know in the comments below.