Apple Vision Pro
Apple's first spatial computer.
Apple Vision Pro
Apple Vision Pro is Apple's augmented and virtual reality headset, a device that has been in development for more than a decade. Vision Pro marks the company's first entrance into a new product category since the 2015 Apple Watch, with the device introduced at WWDC 2023 in June. A launch is set for early 2024.
While the Apple Vision Pro is definitely a headset, Apple does not use that word when referring to it. Instead, Apple calls it a spatial computer because of its ability to blend digital content with the physical world.
Apple Vision Pro is a mixed reality headset that displays augmented reality content overlaid on world around you, and immersive entirely virtual content, but it's worth noting that the headset is not see through. Everything you see is digital. For augmented reality content that does not make your surroundings disappear, Apple uses cameras that map out what's in front of you, translating that into a digital image augmented by virtual elements.
For a virtual reality experience, Apple shuts off those cameras and can make it seem like you are completely isolated from what's going on around you, allowing you to focus solely on what's being displayed on the headset's screens. This shift between the "real" and the "immersive" can be controlled with an on-device Digital Crown.
Design wise, Apple Vision Pro is not unlike a pair of ski goggles, featuring a singular piece of laminated glass for the front that melds into an aluminum alloy frame. A soft, fitted Light Seal attaches magnetically to the frame and conforms to your face to block out light.
Two Audio Straps with built-in speakers are positioned at the sides of the headset, delivering Spatial Audio that blends what you're hearing on the headset with what's going on in the real world. The Audio Straps connect to a 3D knitted headband that holds the Vision Pro in place. Apple designed it to be breathable, cushiony, and stretchy for comfort, and a Fit Dial ensures the headset fits tight against your head. Apple plans to offer Light Seals and headbands in multiple sizes, and these components are swappable.
Inside the frame, there are two micro-OLED displays that deliver over 4K resolution to each eye for a total of 23 million pixels. There's also an external display called EyeSight that projects an image of your eyes so people can tell whether you're using the headset in an immersive mode or if you can see what's going on around you. For glasses wearers, there are custom prescription Zeiss Optical Inserts that can be attached magnetically to the headset's lenses.
There are no controllers for Apple Vision Pro, with the headset instead controlled by eye tracking, hand gestures, and voice commands. An app can be navigated to and highlighted by looking at it and then opened with a tap of the fingers. Scrolling is done with a simple flick of the fingers.
More than a dozen cameras and sensors in Apple Vision Pro map out the world around you, keeping track of your hand and eye movements. Optic ID, which scans your iris with infrared lights and cameras, is used for authentication. Each person has a unique iris pattern, and Optic ID is akin to Face ID and Touch ID. It can be used for unlocking the device, making purchases, and as a password replacement.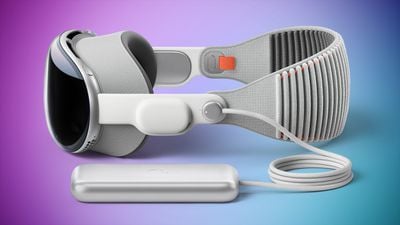 There are two Apple silicon chips inside Vision Pro, including the same M2 chip that's in the Mac and a new R1 chip. The M2 chip runs visionOS, executes computer vision algorithms, and provides graphics, while the R1 chip processes input from the cameras, sensors, and microphones.
Apple Vision Pro can take 3D photos and videos using a built-in camera that's powered by tapping on the top button of the device. Apple says that users can capture videos and photos in 3D and then relive those memories like never before. Vision Pro will also show existing photos and videos in large scale, making them more immersive. Note that when you are recording video, Vision Pro makes it clear that recording is happening with an animation on the external display.
Due to weight constraints, Apple did not put a battery in Apple Vision Pro. Instead, it can be powered by a braided cable that is attached to a battery pack worn at the hip or plugged into an adapter. The battery pack offers two hours of battery life on a single charge.
With Apple Vision Pro, content is displayed in the space around you. You can position apps and windows in mid-air, rearranging them as you see fit, with multiple windows supported. Apple says there's an "infinite canvas" to work with. Apps can be displayed in the actual environment that you're in so you can stay present with what's going on around you, or you can use a more immersive view that shuts out the world and puts content on a virtual background called an Environment.
A visionOS operating system runs on Apple Vision Pro, and it has a dedicated App Store with apps designed specifically for the device, but it is also able to run iPhone and iPad apps. You can connect the Vision Pro to a Mac, with the headset serving as a display for the Mac. It works with Bluetooth accessories for text input and control, or you can use virtual typing or dictation for text.
There is a main Home View that has all of your favorite Apple apps like Mail, Messages, Music, Safari, Photos, and more, with your data synced through iCloud. The interface is similar to the iPhone interface, but you can open apps and arrange them virtually. Apple is updating its main apps for visionOS and has created APIs for developers. Apple Vision Pro offers an immersive experience for entertainment like TV and movies. Content can be expanded to feel like it's in your own personal theater, complete with spatial audio.
FaceTime has been redesigned for Vision Pro. People on the call are shown in large tiles to the headset wearer, while the headset wearer is shown as an accurate digital recreation using their Digital persona. With FaceTime, Vision Pro users can collaborate on documents with colleagues or share apps with others, and spatial audio makes it clear who is speaking.
The Cinema Environment allows you to watch shows and movies at the frame rate and aspect ratio chosen by the creator, or you can use a nature-themed Environment to make the screen feel 100 feet wide. Apple created Apple Immersive Videos that are 180-degree 3D 8K recordings that put users right inside the action, plus streaming services like Apple TV+ and Disney+ are available on Vision Pro. As for gaming, Vision Pro supports Apple Arcade, with 100 iPad games to be available at launch. Games can be played with Bluetooth game controllers that connect to the headset.
Apple Vision Pro is priced starting at $3,499 and it is set to launch in early 2024. It will be available on Apple.com when it launches, and in stores only in the United States to begin with.
Note: See an error in this roundup or want to offer feedback? Send us an email here.
How It Works
Apple Vision Pro is a "mixed reality" headset, meaning it can display both virtual and augmented reality content. It is not like augmented reality glasses, however, as it is designed to completely cover the eyes and block out all of your surroundings.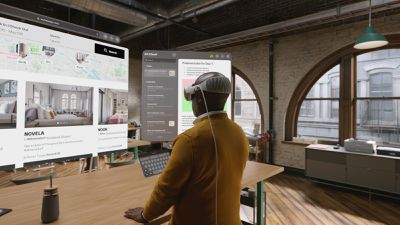 Apple is using exterior and interior cameras for the augmented reality component of the device. The cameras are able to map the space around you and project the real world back to you, so though you're not actually looking at what's around you using see-through glasses, you are effectively seeing an accurate picture of your real world environment.
With this capability, Apple can show you 3D windows, objects, and content in your actual space, or the cameras can be turned off to shut out the world to provide an entirely virtual setting. Apple is focusing on the headset's ability to allow for working, content consumption, gaming, communication and other activities to be done "anywhere" with just the Vision Pro.
Design
Vision Pro is Apple's wearable "spatial computing" device, and while Apple does not refer to it as a headset, that's exactly what it is. The Apple Vision Pro is worn over the head, and it is a virtual/augmented reality headset with similar to the PlayStation VR or Meta Quest.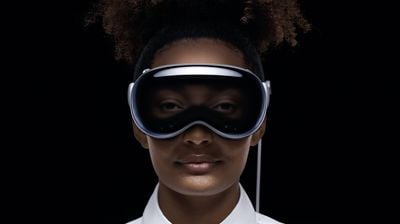 Design wise, the Vision Pro looks similar to a pair of ski goggles, albeit high-end goggles. It features a laminated glass front, which Apple says was "three-dimensionally formed." The glass is attached to a curved aluminum alloy frame that wraps around the face. As of now, the headset is only available in silver with matching gray Light Seals and bands.
The frame connects magnetically to a Light Seal that sits on the face, and Apple offers the Light Seal in a range of sizes and shapes to fit different faces. A tight fit with the Light Seal is essential for blocking out light and proper operation of the headset. Apple designed the Light Seal to be flexible so that it can conform to individual face shapes.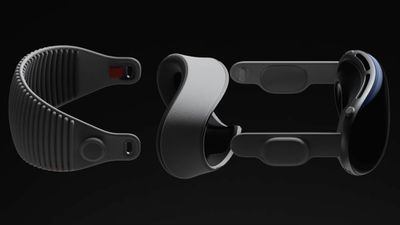 At the side of the headset, there are two audio straps that are equipped with speakers that support spatial audio. The audio straps connect to a 3D braided fabric strap that secures the headset to the back of the head, with an adjustable dial for tightening it up for a customizable fit. The main braided headband is detachable so users will be able to swap in different sizes, and perhaps different designs if Apple makes those available in the future.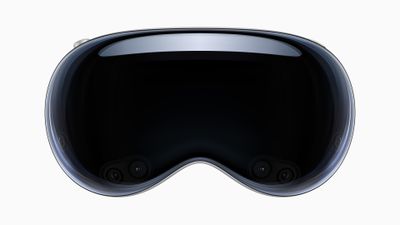 Apple created the rib structure of the headband to provide cushioning, breathability, and stretch so that it would be comfortable to wear for long periods of time.
There is also a secondary strap that can go over the head for better weight distribution. Apple has not provided much info about this secondary strap, and the design is reportedly not finalized and the design is reportedly not finalized. Apple added a second strap after learning that people with smaller body sizes and heads struggle to wear the headset for more than half an hour.
Physical controls include a Digital Crown at the top that changes your level of "immersion" and to show you more or less of your real world surroundings through "Environments," and a top button that serves as a camera button for capturing 3D "spatial" videos and photos.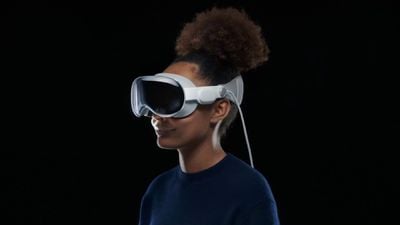 On the left side of the headset, there is a space to attach a braided cable that provides power to the device. The round charging puck looks like an Apple Watch charging puck, but it clicks into the headset securely with a rotation gesture.
The charging cable attaches to either an external battery pack worn at the waist or a power adapter connected to the wall.
Display
Apple Vision Pro is equipped with two custom micro-OLED displays that provide a total of 23 million pixels, which Apple says is "more pixels than a 4K TV." The headset displays feature a 90Hz refresh rate, but there is a 96Hz refresh rate that can be activated when watching 24 fps movies.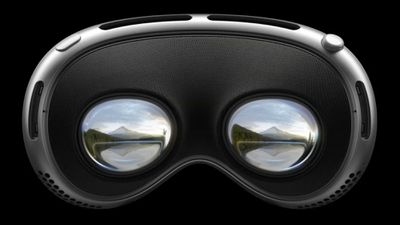 The displays have been describe as the size of a postage stamp, but specific hardware information is not known yet.
There's also an external "EyeSight" display that shows the headset wearer's eyes to the people in the room around them. The feature is designed to allow people to know if the headset wearer is using a less immersive augmented reality mode or a fully immersive virtual reality mode.
The eye display that is shown on the exterior display comes from an interior camera that is monitoring the wearer's eyes. It can also alert people when you are recording video with the external camera.
Lens Inserts
Apple Vision Pro customers who wear glasses will be able to order Zeiss Optical inserts with their prescription. This will be a separate cost, but pricing has not yet been announced. The lenses will attach magnetically to the displays inside the headset.
Cameras and Sensors
Apple Vision Pro includes 12 cameras and five sensors for monitoring hand gestures and mapping the external environment.
Two of the cameras transmit more than a billion pixels per second to the display to depict the real world around the wearer when using augmented reality mode, while the others are used for head tracking, hand tracking, and real-time 3D mapping.
Infrared flood illuminators enhance hand tracking in low-light conditions, and LiDAR depth sensors determine the size and location of objects in the room around you.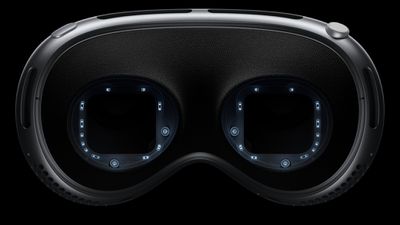 Four infrared cameras and LED lights are inside the headset for eye tracking purposes. With this technology, the Vision Pro is able to tell exactly where the wearer is looking for navigation purposes.
Navigation
There are no physical controls for the Vision Pro. Navigation is done through eye movements, hand gestures, and voice-based commands. In visionOS, for example, you can highlight an element like an app icon by looking at it, using a quick hand gesture to launch the app.
Bluetooth keyboards, mice, trackpads, and game controllers can be connected to Vision Pro as an alternative navigation method, though these are mainly designed to be used with a connection to the Mac and for Apple Arcade games.
Optic ID
The infrared cameras and LED lights inside the Vision Pro are used for a security feature called Optic ID. Optic ID is similar to Touch ID or Face ID, but it uses iris scanning instead of a facial scan or a fingerprint scan.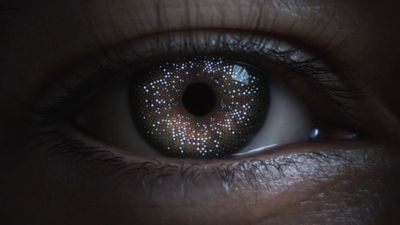 Each person has a unique iris pattern, which the headset is able to detect to keep sensitive data on the headset secure. Optic ID can be used like Face ID for unlocking the device, authenticating purchases, and as a password alternative.
3D Camera
Apple included an exterior camera that is able to capture 3D video and 3D photos that are viewable in 3D on the Vision Pro. Apple says that these are like reliving a memory in person because of the "incredible depth" that's available.
The camera gives a clear indicator when recording is turned on so that the headset cannot be used to secretly record video.
Audio
There are speakers on either side of the headset, with the speakers built into the straps that are connected to the frame. The speakers feature dual-driver audio pods that are positioned next to each ear, and they are able to analyze a room's acoustic properties to adapt the sound to match the space.
The speakers support spatial audio for an immersive surround sound experience, plus there are also six microphones for phone calls, video calls, and voice commands.
Processors
Apple Vision Pro is powered by a pair of chips. The main processor is the M2, which is the same chip that was first introduced in the 2022 MacBook Air. It is responsible for processing content, running the visionOS operating system, executing computer vision algorithms, and providing graphical content.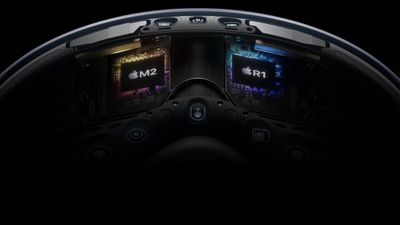 A second R1 chip is responsible for all of the information coming from the cameras, sensors, and microphones. Apple says that it can stream images to the displays within 12 milliseconds, providing a "virtually lag-free" view of the world.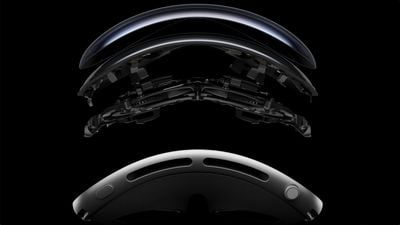 There is a thermal system inside the Vision Pro that is designed to quietly move air through the headset to control heat and optimize performance.
Battery Life
With the external battery pack, the Vision Pro can run for approximately two hours. Battery packs can be swapped out for additional power on the go, but the device ships with a single battery pack.
When plugged in to a power adapter, the Vision Pro can run all day.
visionOS
Apple Vision Pro runs visionOS, an operating system that Apple designed specifically for the headset. visionOS is designed to provide an "infinite canvas" with app windows able to go anywhere in the space surrounding the user.
Apple redesigned apps like Safari, FaceTime, Messages, and more to work in a 3D environment, plus the headset is able to run the full catalog of iPhone and iPad apps. iPhone and iPad apps aren't optimized for 3D, but can be used on the virtual canvas.
Movies and TV shows are available through Apple TV+ and other apps, and can be adjusted to look they're on a screen that's "100 feet wide." visionOS has its own App Store, and specially created immersive 3D content created by Apple.
visionOS is described as the first spatial operating system because it can be controlled with eyes and hand gestures, with no physical controls necessary.
Mac Integration
visionOS can be used with a Mac, serving as a display. It works as a giant external display for Mac content, with familiar controls available through connected keyboards, mice, and trackpads.
Full details on visionOS can be found in our visionOS roundup.
iPhone Integration
The iPhone will also work with the Vision Pro headset, though specific details on iPhone integration are not known at this time. The iPhone may be able to be used for text input and other similar functions.
How to Buy
The Vision Pro is not available as of yet. Apple plans to release it sometime in early 2024, and it will be available first in the United States before expanding to other countries.
Production Forecasts
The Apple Vision Pro reportedly has such a complex design that Apple has been forced to make "drastic cuts" to its production forecasts because of difficulties with manufacturing. Apple is expected to make fewer than 400,000 units in 2024.
A Cheaper Second-Generation AR/VR Headset
Apple is already working on a new version of the Apple Vision Pro that will be priced more affordably. Apple plans to charge $3,499 for the Vision Pro when it launches in 2024, but the company wants to create a model that has a lower cost to broaden the appeal of the device.
Apple engineers plan to use more affordable components to bring the price down, but the lower-priced headset will have the same general AR/VR "mixed reality" functionality of the Vision Pro. The chips in the device will be on par with the iPhone rather than the Mac-level chips used in the first AR/VR headset, and Apple may also use lower resolution internal displays and cheaper materials.
As of right now, development on the more affordable headset is in the early stages and Apple has not created a working prototype. Foxconn is already working on a lower-cost headset, and rumors right now suggest it could come in late 2025 at the earliest.
According to Apple analyst Ming-Chi Kuo, the second-generation Vision Pro will be available in both high-end and low-end models, similar to the iPhone. Apple is expected to offer a more affordable model and a follow up to the higher-end and more expensive first-generation model.
Apple's Long Term AR/VR Plans
Apple analyst Ming-Chi Kuo believes that Apple could be planning augmented reality "contact lenses" that could launch sometime in the 2030s. According to Kuo, the lenses will bring electronics from the era of "visible computing" to "invisible computing." There is "no visibility" for the contact lenses at the current time, and it's not a guaranteed product that Apple will develop.
Apple was also developing augmented reality "Apple Glasses" that were supposed to launch a year or so after the headset, but the project has been placed on hold so the company can instead focus on a cheaper version of the AR/VR headset. Apple Glasses are expected to launch in 2027 at the earliest.
A future version of the AR/VR headset could have accessibility settings that are designed to help people who suffer from eye diseases and visual issues.