macOS Ventura
Apple's next-generation macOS operating system, available now.
macOS 13 Ventura
Introduced at WWDC 2022, macOS Ventura is the current version of macOS, the operating system that runs on the Mac. macOS Ventura is a significant update that introduces a new multitasking experience, overhauls multiple apps, and adds updated capabilities across the platform.
With Stage Manager, Mac users have an all-new way of focusing on a task while leaving other apps at the ready. Stage Manager puts your main app front and center on the desktop, and tucks your other apps at the side for quick access when they're needed. Apps and windows can be grouped together, so you can set up your desktop in the right way for your workflow. Stage Manager integrates with both Mission Control and Spaces, and it's simple to click right back over to the desktop.
The new Continuity Camera feature does away with the need for a poor quality built-in Mac camera because it allows you to use your iPhone as a webcam for your Mac. The iPhone can be positioned on top of the Mac using a stand, and it is designed to connect automatically. There's a Desk View that uses the Ultra Wide lens to show off your desk if you need to demo something, along with Center Stage and Studio Light, an effect that illuminates your face while dimming the background.
Handoff expands to FaceTime, allowing you to take calls on the Mac and transfer them seamlessly to the iPhone or vice versa. Messages is getting undo and edit buttons to fix errors in or recall a recently sent iMessage, and there is an option to mark messages as unread. Accidentally deleted messages can be recovered, and there are new collaboration features.
When sharing a file to Messages through the share sheet or drag and drop, you can choose to collaborate with the recipient, giving them access to the file or document. Edits to the shared document appear at the top of the Messages thread, making it easy to chat while working simultaneously with others.
SharePlay works in Messages in addition to FaceTime in macOS Ventura, so you can watch TV shows and use apps with others while chatting with them in the Messages app.
The Mail app has been overhauled in macOS Ventura, and the search feature is more relevant and accurate than ever before. When you click into search and start typing, you'll see relevant emails, contacts, documents, photos, and more. Emails can be scheduled, and if you make a mistake you can undo an email for up to 10 seconds after it's sent.
Mail users can set reminders to return to a message at a specific date and a time, and there's an option to receive automatic suggestions to follow up on an email if there's been no response. Mail is also now able to detect if items like an attachment or a cc'd recipient is missing from a message based on the context.
Apple is bringing new apps to the Mac in macOS Ventura, including a dedicated Weather app and a Clock app, both of which mirror their iOS counterparts. System Preferences has been renamed System Settings, and it has a design that's more like the Settings app on iPhone and iPad.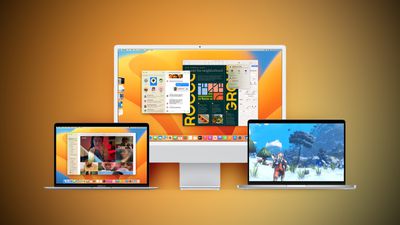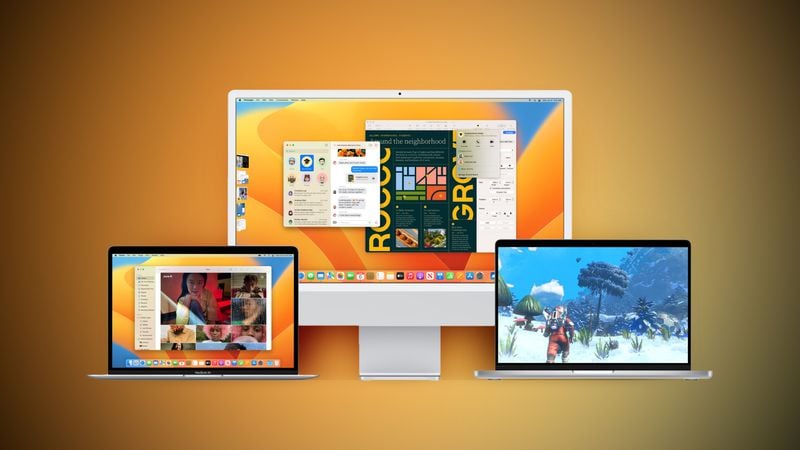 In Safari, there's a new Shared Tab Groups feature so you can easily share your favorite websites with friends and family, building a collaborative list of bookmarks on a shared start page. Messages conversations and FaceTime calls can be started right from Safari too, which is useful for project research, trip planning, and more.
Apple is planning to make Safari safer through Passkeys, a next-generation credential that replaces the password. Passkeys stay on device and are never on a web server, which makes them far more secure than passwords. Passkeys are easy to use, with sign-ins authenticated through Touch ID or Face ID, plus they sync across devices through iCloud Keychain and can be used on non-Apple devices with iPhone authentication.
Spotlight's design has been updated with simpler navigation and Quick Look support for previewing files with a click. Photo Library integration is available for searching for images in the Photos app by location, people, scenes, and objects. Spotlight can even find Live Text in images, and it supports actions like creating a document, running a shortcut, or starting a timer. Spotlight in macOS Ventura offers rich search results for artists, movies, actors, TV shows, businesses, and sports.
Live Text works with video content as well as images in macOS Ventura, and there is a neat new Visual Look Up feature for lifting the subject of a photo away from an image and dropping it into another app. Visual Look Up is now able to recognize animals, birds, insects, statues, and more landmarks.
There's a new iCloud Shared Photo Library that allows up to six family members to share a photo library that is separate from their personal libraries, for easier enjoyment of family photos. Photos offers intelligent sharing suggestions for relevant photo moments that family members have participated in, and every Shared Photo Library user can add, edit, delete, or favorite shared photos and videos.
macOS Ventura includes Metal 3, which will improve gaming quality on Apple silicon Macs. It includes MetalFX Upscaling for accelerated performance that offers gamers a more responsive feel and improved graphics. There's also a Fast Resource Loading API that gives games easier access to the high-quality textures and geometry for an immersive gameplay experience.
To keep Macs more secure, there's a new Rapid Security Response feature for installing security updates without a system update, and it doesn't even require a reboot.
macOS Ventura was released to the public on Monday, October 24.
Note: See an error in this roundup or want to offer feedback? Send us an email here.
Current Version
The current version of macOS is macOS Ventura 13.4, released in May 2023. The update fixes several actively exploited vulnerabilities and adds a new Sports tab to the Apple News app. Apple has also seeded three betas of an upcoming macOS Ventura 13.5 update to developers and public beta testers.
Stage Manager
Stage Manager is a new multitasking feature that joins Spaces and Mission Control, working alongside these view options. Stage Manager organizes apps and windows into a single view, so you can stay focused on your main app while also swapping quickly between tasks.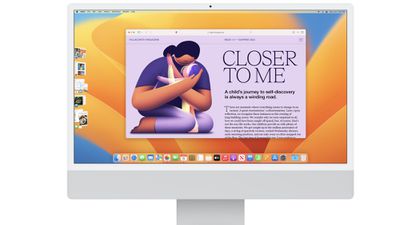 The app in active use is in the center of the display, with other windows collapsed off on the left. You can click anywhere on the desktop to get to desktop files and folders, and click on the icons on the left to swap apps.
Groups of apps can be paired together for specific tasks or projects, so you can do something like pair the Photos app with an app like Pixelmator if you want to do some editing. Grouped-up apps can be arranged, resized, and laid out for the optimal workspace.
Continuity Camera
With Continuity Camera, you can use an iPhone XR or later as a webcam for a Mac, taking advantage of the superior camera technology in the iPhone for clearer video calls. The iPhone can connect to the Mac using a cable or it can connect wirelessly, and the iPhone's camera automatically kicks in when it's brought close to the Mac.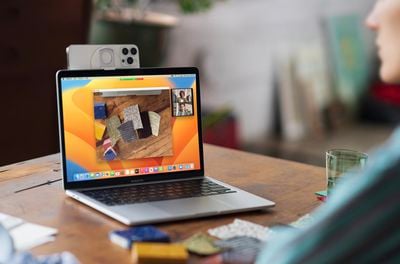 The iPhone can also serve as the Mac's microphone in addition to working as a camera, and there are some special photographic capabilities.
Portrait Mode - Portrait mode is available on any Mac with a connected iPhone, blurring the background behind you.
Center Stage - Center Stage uses the Ultra Wide camera on the iPhone to adjust the framing to keep you centered if you move around while on a call. It's also useful if there are multiple people on the call because it keeps everyone in the frame.
Studio Light - Studio Light dims the background and illuminates the face to replace external lighting. Apple says that it's ideal for difficult lighting situations, such as backlit scenes in front of a window.
Desk View - Desk View uses the Ultra Wide camera on the iPhone to show what's on your desk during a video call. It is designed to mimic an overhead camera, and you can share your desk and your face at the same time.
New App Features
Messages
The Messages app didn't get major design changes, but there are features that Messages users have been wanting for years. An edit option allows iMessage to be edited for up to 15 minutes after it's sent, and there's also an option to unsend any message, also for up to 15 minutes after it's sent.
Editing and unsending messages can only be done with "blue bubble" iMessages, and it does not work with SMS. It also requires all parties to have iOS 16 or macOS Ventura installed.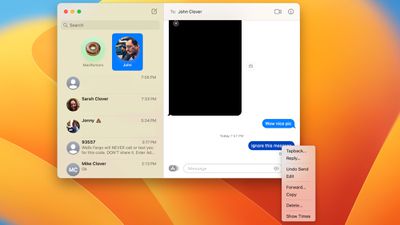 If you get a message but don't want to deal with it right away, you can mark it as unread so you remember to check in on it later. There's also now an option to recover recently deleted messages for up to 30 days after deleting them, so if you accidentally delete something, it's no longer gone for good. Deleted messages can be found in the filtered section of the Messages app.
Notably, Messages has been updated to work with SharePlay in addition to FaceTime. With SharePlay, you can chat with friends while watching movies, listening to music, playing games, doing workouts, using apps, and more. SharePlay works with FaceTime or Messages so you can collaborate with friends and family and chat with a Messages convo or a video chat.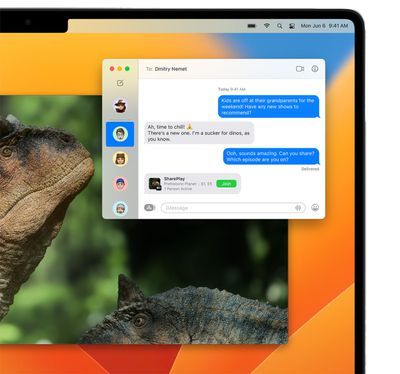 Apple has updated Memoji that can be used in Messages with additional stickers, new nose options, and 17 hairstyles.
Safari
Apple in macOS Monterey added Tab Groups, and in macOS Ventura, there's now Shared Tab Groups. With Shared Tab Groups, a group of people can share a set of tabs. Everyone can add tabs and see the Tab Group update as tabs are added.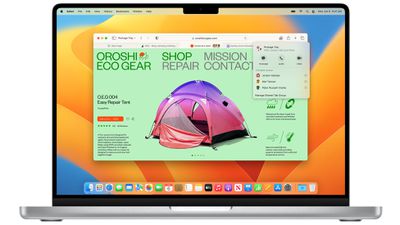 Tab Groups have their own start pages in macOS Ventura, so each one can have a customized background image and favorites. Pinned tabs work in Tab Groups as well.
There are new web extension APIs for developers to create new kinds of Safari web extensions, and extensions will now sync across devices. Website settings such as page zoom and automatic Reader view will also now sync across all devices.
Apple has added support for opt-in notifications from Safari pages on macOS, and text in images on the web can be translated using the Live Text feature. Wi-Fi passwords can be managed in Network Preferences, and the strong passwords that Safari suggests can be edited to match site-specific requirements.
Mail
To bring the Mail app more in line with third-party email apps, Apple made a number of changes in macOS Ventura. There are tools for unsending an email within 10 seconds if you make an error, and an option to schedule email messages to be sent in the future. A Remind Me option lets you get a reminder to reply to an email message if you can't send a response right away.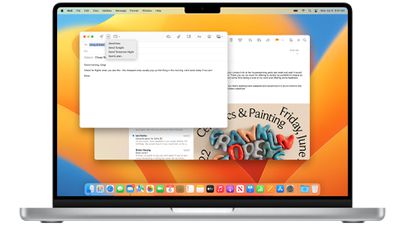 Search in the Mail app is faster and more accurate than before, with the Mail app anticipating what you might want to search for and providing a richer view of content from the moment you start a search. Search also automatically corrects for typos and searches for synonyms to help you find what you're looking for.
If you haven't gotten a response to a message that you sent, the Mail app can move a sent email to the top of your inbox so you can get a reminder to follow up. If you forget to include an attachment or a cc'd recipient, the Mail app is able to let you know.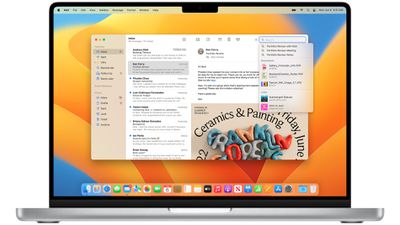 Like Messages, Mail now supports rich links to give more context to weblinks and other information included in email messages.
FaceTime
FaceTime in macOS Ventura works with Handoff, so a FaceTime call can be accepted on the iPhone and then transferred over to the Mac, or vice versa. FaceTime Handoff works seamlessly between your devices, and when a call is handed off, if you have a Bluetooth headset connected, it will also transition to the new device.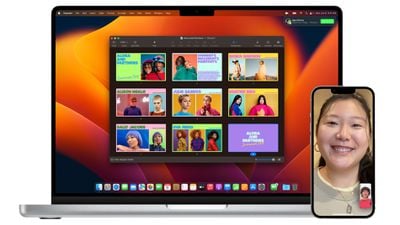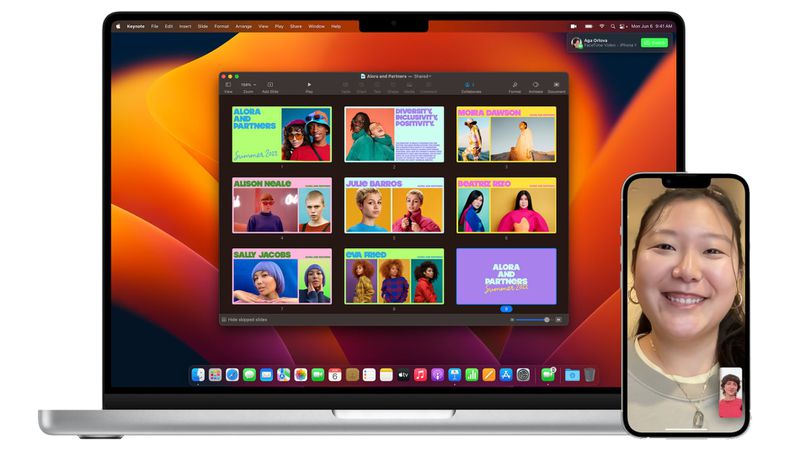 macOS Ventura supports a new collaboration feature for working with others in apps like Files, Keynote, Numbers, Pages, Notes, Reminders, and Safari. In these apps, you can start a FaceTime call with your collaborators so you can video chat about what you're working on.
On Apple silicon Macs, there's an option to see automatically transcribed dialogue for FaceTime video calls, with speaker attribution so you can tell who's speaking.
Photos
If you have duplicate images in your Photo Library, macOS Ventura can detect them and merge the duplicate images together. The people album can now be sorted alphabetically, and edits made on one photo can be copy and pasted to another photo.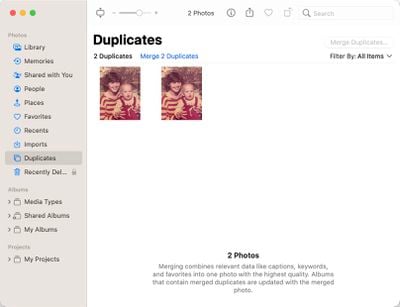 There's a revamped Photo picker for importing photos and videos into system apps from the Photos library, and there are options to Disable Memories and Featured Photos in Photos and the Photos widget for people who do not like those features.
This Day in History and children playing are new memory types, and Apple Music subscribers can now add Apple Music songs to their Memories to listen to on their devices.
Apple locked the Hidden and Recently Deleted albums in the Photos app in macOS Ventura so they can only be accessed with a Mac's login password or Touch ID.
Clock
The Clock app on the iPhone and iPad has been made available on the Mac. It supports Siri integration for setting timers, alarms, and checking the time in another city.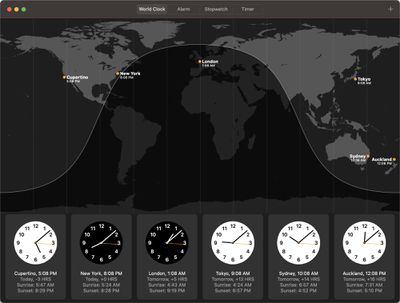 The local time can be seen in different time zones around the world, and there's support for alarms with custom alerts. With Shortcuts integration, the Clock functionality can be extended.
Weather
Apple brought the Weather app to the Mac, and while it has the same design as the Weather apps for iPad and iPhone, the Mac version has been optimized for a larger display. It features immersive animations, detailed maps, and clickable forecast modules.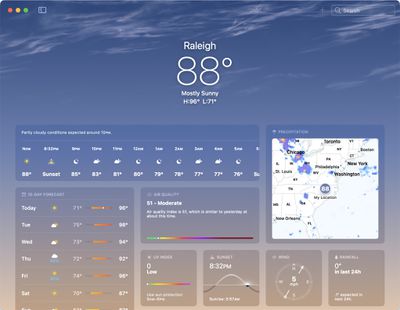 The Mac app has all of the features of the iOS app, including animated weather backgrounds that change based on the weather at your location, severe weather notifications, air quality monitoring, weather maps, and forecasts.
Home
The Home app has been overhauled with a design that makes it simpler to navigate and organize smart home accessories, plus Apple says that the app features improvements to the underlying architecture to make smart home devices more efficient and reliable.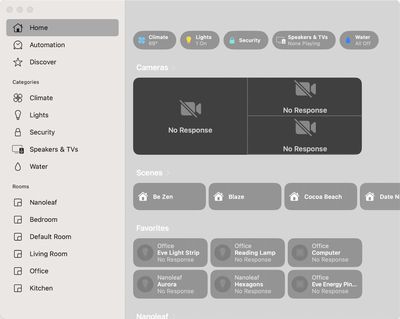 With the dedicated Home tab, all of the accessories in the entire home are visible on one screen. All rooms and favorited accessories are aggregated into a single tab for easier access to the most often-used accessories. Accessory tiles have been redesigned to make each different type of accessory more obvious at a glance.
A selection of categories is available at the top of the app, and it organizes accessories into Lights, Climate, Security, Speakers, TVs, and more, so you can get to the accessories that you are looking for quickly. Apple has added a new sidebar layout for access to accessories by room, and there is a new camera view that displays up to nine cameras front and center in the Home tab.
The Home app in macOS Ventura supports Matter, the new smart home connectivity standard designed to allow accessories from Apple, Google, Samsung, and other smart home manufacturers to work together seamlessly across platforms, for more versatility when it comes to smart home products.
Maps
The Maps app supports multi-stop routing for the first time, so you can plan out a trip with multiple stops on the Mac and then sync it over to the iPhone when you're ready to leave. There's also an option to calculate how much a transit trip will cost with a transit fare addition.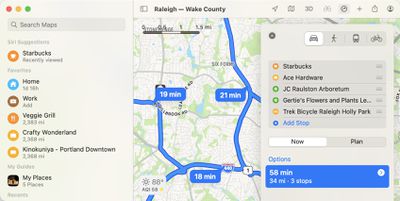 Notes
Notes are automatically organized into Smart Folders based on new filters in macOS Ventura. Rules are available for Date Created, Date Modified, Shared, Mentions, Checklists, Attachments, Quick Notes, Folder, and more.
Apple has also made it so notes are grouped by chronological categories like Today and Yesterday for quick reference, plus there are filter options for Smart Folders and the Tag Browser.
Locked notes can be encrypted end-to-end with the Mac's login password, and the Notes app supports the collaboration features that allow anyone with a link to a note to join in and work on it.
Reminders
There are several new features in the Reminders app in macOS Ventura.
Pinned Lists - Favorite lists can be pinned for quicker access.
Templates - Lists can be saved as a template that can be reused for routines, packing lists, and more. Templates can be published and shared with others, and templates other people have created can be downloaded and used in your Reminders app.
Completed Smart List - All completed reminders can be viewed in one place, with info like time of completion.
Scheduled Lists - The Scheduled list has new week and month groups to help with long-term organization.
Today Lists - The Today list is now grouped by Morning, Afternoon, and Tonight for a better division of the day.
List Groups - You can click on a list group and see a combined view of the lists and reminders that it contains.
Richer notes - When adding notes to your reminders, you can include bullets, underline, bold, and strike-through text.
Notifications in shared lists - When tasks are added to or completed in shared lists, Reminders will send a notification.
Filters - In the Tag Browser and Custom Smart Lists, there are options to filter for any or all criteria selected.
iCloud Shared Photo Library
iCloud Shared Photo Library makes it easier to share photos with family members. Up to six people can share an iCloud Photo Library, and each person has equal access to add, edit, favorite, caption, and delete shared photos.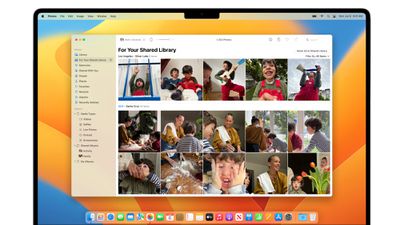 To prevent accidentally shared photos, there are smart setup rules that can be implemented. You can opt to share all past photos or just photos from a specific start date. You can also choose to share photos that have only specific people, such as your family members.
Photos can be added to the Shared Library automatically, but there are also options to share based on Bluetooth proximity. Sharing suggestions continue to pop up in For You, and shared photos will be visible in Memories, Featured Photos, and the Photos widget.
System Settings
System Preferences has been renamed System Settings in macOS Ventura, and it has an iOS-like design with a side bar that aggregates the different settings rather than the multi-icon layout used in macOS Monterey.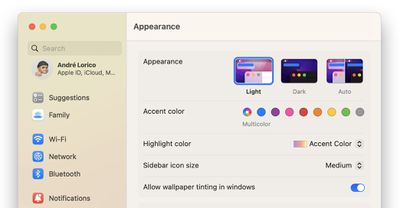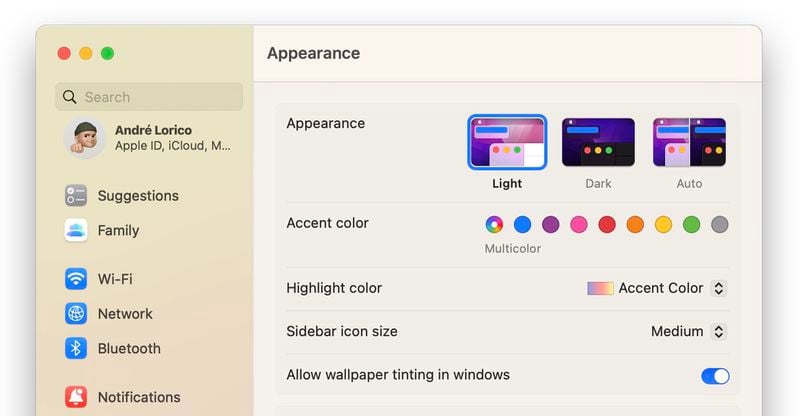 With a sidebar, System Settings is meant to be easier to navigate because you don't need to swap through different settings panes. The sidebar is organized by category similar to the prior app, with categories that include Appearance, Control Center, and Desktop.
System Settings search has been improved to make it easy to find what you're looking for with a couple simple keywords.
Freeform App
Freeform is a virtual whiteboard-style app that Apple is planning to introduce later in the year in a macOS Ventura update. It provides a blank canvas for collaborative purposes, so you can work with others on brainstorming, diagramming projects, and more.
The Freeform app is cross-platform and it supports real-time collaboration so you can view others' contributions as they add content and make edits. It uses the Messages app and FaceTime, so you can chat with collaborators in FaceTime and also see updates right in a Messages conversation.
Images, video, audio, PDFs, documents, and web links can all be added to the canvas and previewed inline without having to open up another app and leave Freeform.
Spotlight
Apple improved Spotlight search in macOS Ventura, adding support for Quick Look and Quick Actions. With Quick Look, you can press on the Space bar to get a preview of any file, just like how it works in Finder.
Quick Actions allow Spotlight to do things like start a timer, activate a Focus, locate the name of a song with Shazam, run Shortcuts, and more.
Spotlight now has a more iOS-like search feature that provides rich results for contacts, actors, musicians, movies, TV shows, businesses, and sports. It can search for images in Photos, Messages, Notes, and Finder using search parameters like locations, scenes, or the content of images, including text, people, pets, and other photo subjects.
There's also an integrated web search feature that allows you to conduct searches for images of people, animals, plants, landmarks, monuments, and more right from the Spotlight interface.
Live Text
Live Text, the feature that's designed to let the Mac recognize text in photos and images, now works with video. Text is interactive in paused videos so you can use copy/paste, lookup, and translate on any video that you have on your Mac. It works in Photos, Quick Look, Safari, and other apps.
Live Text supports Quick Actions, so data detected in photos and videos is actionable with a click. Flights and shipments can be tracked, foreign languages can be translated, there's a currency conversion feature, and more.
Visual Look Up
Apple added an interesting new Visual Look Up feature that lets you lift the subject from an image with a click, allowing it to be added to another image or turned into a sticker for the Messages app. It almost perfectly isolates the subject from the image by removing the background, and it is available in Photos, Screenshot, Quick Look, Safari, and more.
Visual Look Up also now supports the recognition of birds, insects, and statues.
Focus
Apple improved the Focus feature in macOS Ventura, adding filter options. Apple apps like Calendar, Mail, Messages, and Safari can have boundaries that allow only parts of the app to show. In Calendar, for example, a Focus can be set to only show a work calendar, or in Safari, you can set a certain tab group to be visible. Developers can support Focus filters through an API.
An easier setup mechanism makes it quicker to get started with Focus, and Focus schedules allow a Focus to turn on automatically at a set time or location while using a certain app.
Apple has also implemented allow and silence lists, so you can select apps and people you want to receive notifications from by either allowing them or silencing them.
Passkeys
Apple in iOS 16, iPadOS 16, tvOS 16, and macOS Ventura is introducing a new "Passkeys" feature that replaces traditional passwords when signing into a website or an app. Passkeys are more secure than passwords, and protect users from phishing, malware, and other attacks aimed at gaining account access.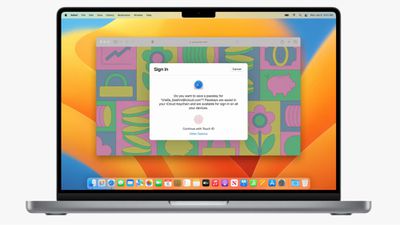 Passkeys are next-generation credentials that are safer and easier to use than standard passwords. As Apple explains in a support document on the feature, Passkeys are built on the WebAuthn standard and use a unique cryptographic key pair for each website or account.
One key is public and stored on the website server, while the second key is private and kept on-device. On the iPhone and other devices with biometric authentication, Face ID or Touch ID is used to authorize the passkey to authenticate the user to the website. The keys must match to allow for a log in, and because the second key is private and available only to the user, it cannot be stolen, leaked, or phished.
Passkeys rely on iCloud Keychain, which in turn requires two-factor authentication for further protection. Passkeys sync across all of a user's devices through iCloud Keychain, which is end-to-end encrypted with its own cryptographic keys.
Passkey synchronization across accounts provides redundancy in case an Apple device is lost, but should all of a person's Apple devices become lost and the passkeys along with them, Apple has implemented an iCloud keychain escrow function to recover passkey information. There is a multi-step authentication process to go through to recover an iCloud Keychain with passkeys, or users can set up an account recovery contact.
Though Passkeys sound complicated on paper, in practice, it will be as simple as using Touch ID or Face ID to create a passkey to go along with a login.
Apple has been working with members of the FIDO Alliance, including Google and Microsoft, to ensure that passkeys can also be used with non-Apple devices and across platforms. On non-Apple devices, Passkeys will work through QR codes that will authenticate using the iPhone, but it will require support from other companies, so it's a standard that needs to be adopted across the tech world.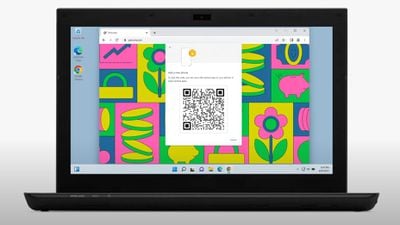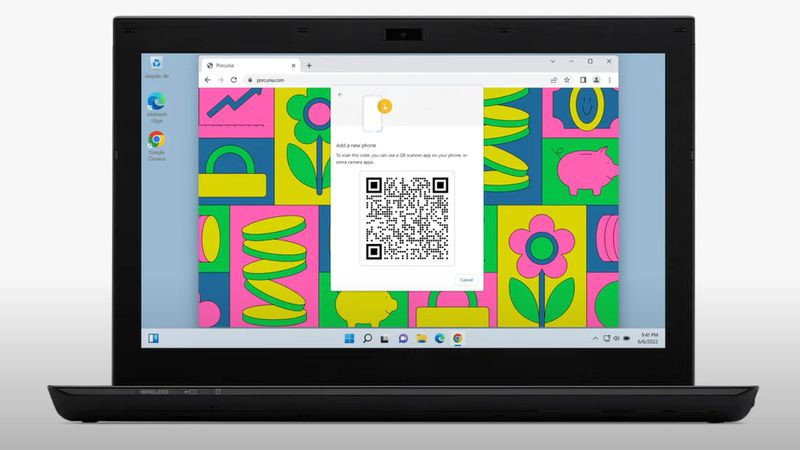 Apple says that transitioning away from passwords is going to take some time, but the process is starting with macOS Ventura, iOS 16, and iPadOS 16.
Accessibility
macOS Ventura brings several accessibility options, some that were previously on the iPhone like Background Sounds and others that are new.
Background Sounds - Plays calming sounds such as ocean or rain to mask unwanted environmental noise and minimize distraction.
Buddy Controller - Combine inputs from multiple game controllers into one so a care provider or friend can provide help getting to the next level in a game.
Live Captions - Generates transcriptions in real time for users who are deaf or hard of hearing. Also works with FaceTime.
Type to Speak - You can type a response and have it spoken aloud when using Live Captions during a phone call or FaceTime call with any Mac video conferencing app.
VoiceOver - VoiceOver supports more than 20 additional languages, and there is a text checker that looks for common formatting issues like duplicate spaces and mistakenly capitalized letters before dictated text is shared.
Other Features
Game Center - The Game Center dashboard has been redesigned to make it simpler to see your friends' play activity and achievements in one spot. Game Center also supports SharePlay for playing games with friends while on a FaceTime call.
Apple Pay - The payment sheet has been redesigned to make it easier to add cards, manage information, and review details about a purchase before completing a transaction.
Dictation - Dictation supports automatic punctuation for inserting commas, periods, and question marks as you dictate text, and it allows you to insert emoji. Emoji support for dictation requires an Apple silicon Mac.
iCloud+ - Hide My Email is supported in third-party apps.
Keyboard - There are new languages for emoji search, autocorrect, and keyboard layouts.
Music - There are new music notifications and improved recommendations to make it easier to keep track of artists you're interested in.
News - News has a "My Sports" section that aggregates info about your favorite teams, leagues, and athletes. Home Pages provide local coverage, and local news has expanded to more markets.
Reference Mode - The 12.9-inch iPad Pro can be used as a secondary reference display for the Mac using Sidecar.
TV - There are new rich video previews at the top of the Apple TV+ tab to improve discovery.
Siri - Siri has an updated design that gives more targeted results to help you find the information that you need.
Stocks - The Stocks app supports earnings dates so you can see when a company's upcoming earnings reports will take place, and there are new Stocks widgets. There's also an option to create multiple custom watchlists to better organize the tickers that you follow.
Tips - In the Tips app, collections can be accessed by theme and interest.
Translate - System-wide translation has gained support for Turkish, Thai, Vietnamese, Polish, Indonesian, and Dutch.
Security Updates - With the Rapid Security Response feature, security updates can be applied to the Mac without a system update, and without a restart.
Compatibility
macOS Ventura drops compatibility for Mac models from 2014 through 2016, and it is compatible with 2017 and later Macs. A full list of Macs that can run macOS Ventura is below.
iMac (2017 and later)
iMac Pro (2017)
MacBook Air (2018 and later)
MacBook Pro (2017 and later)
Mac Pro (2019 and later)
Mac Studio (2022)
Mac mini (2018 and later)
MacBook (2017)
What's Unavailable on Intel Macs
There are a selection of features that are limited to Apple silicon-based Macs, with Intel Macs unable to access these options.
Live Captions across audio content, including FaceTime.
Reference Mode in Sidecar.
Emoji support in Dictation mode.